Mary Sophia Reed Crockett (1833-1899)
Entered by Jane Della Brady (great-great-granddaughter)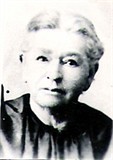 Mary Sophia Reed Crockett was born on September 6, 1833, in Acworth, Sullivan, New Hampshire. She is the daughter of Tillison Reed and Delia Deliverance Byam, who lived and were married in New Hampshire. There were eleven children in the family, of which Mary was the youngest. Her family joined the church just a few years after it was organized moving first to Ohio, then gathering with the Saints in Missouri in joy. But joy quickly turned to sadness as Mary's father, Tillison, died on August 21, 1836. Mary was just three years old.

Joseph Smith purchased a large tract of land in Illinois in 1839 and hundreds of people, including six of Mary Sophia's siblings and her mother, moved there and helped to build the beautiful city of Nauvoo. Mary's mother Delia Deliverance Byam Reed married a man named Nahum Curtis in Warsaw on October, 29, 1839. Together Delia and Nahum had fourteen children. Two of each of their children eventually became husband and wife. Due to severe beatings by mobs persecuting the church, Nahum died on February 11, 1846 in Warsaw, Illinois.

At the age of fifteen, Mary journeyed across the plains. It appears her mother came a year before her in 1848 as she is listed in the book Heart Throbs of the West, Volume 9. It lists her mother as "Delia Byum" and it lists one son—Calvin—and one daughter—Sarah Ann Curtis—as also in the Willard Richards Wagon Company. Other children may have been with them but unlisted. Other records point to the fact that Mary Sophia was in the Howard Egan Wagon Company which left April 18, 1849.* There were 57 individuals and 22 wagons in the company. Food was quite scarce so they dug sego lily bulbs to eat for vegetables. When they got a little corn, they made hominy out of it. Mary would eat one kernel at a time with a pin so that she could make it last longer. Her share would be half a cup at a time and she could make it last all day. Mary Sophia Reed finally entered Salt Lake Valley on August 7, 1849.

Upon arrival, the family all settled in Salt Lake City. Mary became a nanny for the Raleigh family and attended finishing school. After graduating, she moved to Payson to become the very first school teacher there. It is in Payson that she met and married Alvin Crockett. The date of their union was June 29, 1852; Mary was eighteen; Alvin twenty-one. Her wedding ring was made from pure gold which Alvin had found in the California gold rush (the amount for her ring was about all he found).

After Mary married Alvin, her mother Delia also moved to Payson with six of her children. When their first child, named Mary Sophia after her mother, was born on June 8, 1853, Alvin and Mary were living in an unfinished house—a log room with no windows or doors. There were willows on the roof which had not yet been covered with dirt. A heavy rain came down the night the baby was born and though Alvin caught what he could in buckets and pans, it rained on the birthing bed. By the time the rain stopped, the bed was soaked. Alvin built a big fire, even though it was June, and put up forked sticks in the house to hang the bedding on them to dry. Neither Mary nor her daughter took a cold from this experience and Mary said the experience did not hurt her at all.

Mary and Alvin endured many hardships in their young married life. In those early pioneer days, she would card wool to make her own quilt batts and yarn. Mary made her own dyes using aniline, indigo, golden rod, logwood, and capras for colors. She would sit up late at night to get all the weaving, sewing, tailoring, or knitting done to keep the family in clothes, sewing all their stockings as well. She was known to many as an expert weaver. The family made their own shoes for quite some time as Alvin learned as a boy how to do so. Despite difficulties, the young couple were known in the community as promising citizens from both a social and religious standpoint.

In the spring of 1860 Alvin, Mary, and their parents' families moved to Logan. They were in a group sent by President Brigham Young to settle the area. Alvin, Mary and their four oldest children (Mary Sophia, Alvin David, Ozro Ozias, and Lydia Lovera) built and moved into a three-room log house. They built on the NW corner where the Benson School was later located. The Crocketts lived in a log cabin during their first years in Logan.

Alvin became the first mayor and later the first county sheriff and chief of police. He also worked hard as a mason and carpenter. At this point Mary was able to spend more time in church service (they were in the Logan 4th Ward, Cache Valley Stake) and in helping educate her children and others. Many of Mary's descendants have become educators as well.
According to family legend, when their fifth daughter, Delia Ann, was born on October 21, 1860, the baby was said to be the second white child (non-Indian) born in Logan, Utah.

In 1866, Alvin married a second wife: Naomi Peel. In 1868 he moved both of his families to what was then the south part of Logan called "the Island." The Crockett families were among the first settlers of the eastern portion of the Island, on Canyon Road near present-day 900 East. The lane leading south from Canyon Road was commonly known as Crockett Avenue by the early twentieth century. The census enumerations indicate that Mary Sophia Crockett and Annie Crockett maintained separate households throughout their marriages. This part of the Island was in the Logan 1st Ward.

Delia Deliverance spent the last years of her life being lovingly cared for by her youngest daughter Mary Sophia and her family. When Delia died on April 18, 1871, it occurred at Alvin and Mary's home in Logan, Utah. She was 81 years old.
In 1872, Alvin went on his first mission to the birthplace of his relatives, the Fox Islands, Maine. He was forty-one. He later served an additional mission to the Fox Islands. Five of Mary and Alvin's children and twenty-two of their grandchildren also served missions.

In the late 1870s and early 1880s, Alvin and his father David helped to bring rock down from Logan Canyon for the building of the Logan Temple. They also helped with temple construction. Mary Sophia helped as well by selling eggs to help pay for the construction costs.

After living in the Island area of Logan for approximately fifteen years, Alvin went about building both wives substantial homes. He officially received the deed to the land from the first homesteader, Niels Mikkelsen, in 1883. The two homes built for Crockett's wives were probably built soon after this date if not before. Mary Sophia Crockett's home was a 1½-story cross wing built just off Canyon Road on Crockett Avenue. As of the 1990s, Mary Crockett's house was still standing, but has been altered by a covering of aluminum siding. The house has two porches with one facing Canyon Road, which may indicate the wings were built in separate phases.

Oral tradition suggests that Annie's brick house, built a half a block to the south, was built in 1887. It may have been built earlier, for example, before Alvin Crockett deeded the property to Annie Crockett in 1885. It is also possible the sturdy brick house was built after a devastating fire that destroyed Alvin Crockett's barn and several sheds in September 1886. (Utah Journal (Logan), September 9, 1886: 3. Another fire did $50 damage to Alvin Crockett's house in 1894, but it is not known which house. Utah Journal (Logan), April 25, 1895: 8.)

In 1888 Alvin was arrested for being a polygamist. He was found guilty and sentenced to six months in jail. He firmly believed in not running from the law and reported for his jail time. He was allowed out after three months due to good behavior (the Cooper Act). He was in the penitentiary from Monday, February 13, 1888 to Thursday, May 24, of the same year.

Naomi Peel died in March of 1898 from an illness of many years. Interestingly, Naomi and Alvin named one of their children Delia Sophia—apparently after a daughter Alvin had with Mary Sophia and after his first wife herself.
Mary died on June 1, 1899 in Logan, Utah. She was sixty-five years old. Her husband died three years later in 1902.
*Correspondence from Howard Egan, captain of the Reed's Pioneer Company:
May 19th, 1849.
BRO. ORSON HYDE-Dear Sir: According to promise I write to you a short sketch of my travels. This morning Br. Nathaniel Jones came up with us accompanied by two of his brothers with their families, with three wagons, and two young men, late from Baltimore, John Stewart and Charles Snow.
May 21st. A few miles east of Salt Creek, met three wagons on their way back to Nodaway county, Missouri, reported that a number of their company had the measles [measles]; the old man said that one of his sons was then very sick in his wagon. They left their company 15 miles west of Salt Creek which is sixty-five miles from the Missouri river.
About two miles west of Salt creek past a company, most of them from Gentry county, Missouri, had five cases of cholera, a Mr. George Thompson, of Atchison county, Mo., died on the 22d, the other four are said to be recovering.
May 23d. This morning Br. Winchester and family came up with us about 90 miles from the Missouri river, with four wagons, accompanied by two young men John Shackham [John Thackham] and James Dimond. This evening we came up with the Nodaway company: the Captain, Robert Patten, of Nodaway county, Mo., is very sick with the Cholera, and a young man by the name of Thomas O'Flowel of the same county, died last night with cholera, five miles east of the Platte river.

Our company now number 57 souls; 22 wagons; 46 yoke of cattle; 21 cows; 6 horses; 5 mules; 3 young cattle; 21 fowls; 6 dogs; 1 cat.

We are traveling at the rate of about 15 miles a day, feed is good, the weather very cool and our cattle are doing well.

We hear various reports concerning the Pittsburgh company which crossed at St. Joseph, we heard that they quarreled amongst themselves and killed eight of their company.

May 27th. Ten miles west of the Pawnee village, heard that the Pittsburgh company killed only one man, and were heaving out sugar, coffee, and tools of all kinds, and breaking up in small companies.

May 29th. Last night Alfred Campbell, of the Nodaway company, late of Gentry county, Mo., and formerly from Indiana, died with the measles, forty-five miles east of Fort Kearney at Grand Island. We met a lieutenaut from the Fort yesterday:

He reports that a great many belonging to the companies from Independence has had the cholera: he said that sixty had died between Independence and Grand Island.

May 31. Eight miles east of the head of Grand Island; to-day we have passed where the St. Joseph and Independence road intersect this road; there is one continual string of wagons as far as the eye can extend, both before and behind us; all seem to be moving on peaceably and quiet. They reported a great deal of sickness in the different companies for the first two or three weeks ; but now mostly are enjoying good health, an our cattle are gaining. If the Platte river is low enough I think I shall cross over to the North side when I get above the head of Grand Island, in order to get out of the crowd, that I may have more sea room. This evening there is twenty-nine camps in sight, numbering from fifteen to forty wagons in a company.
June 1st. We arrived at Fort Kearney about noon to-day; I ascertained that there had 4131 wagons passed here up to the last of May, and there is probably about two thousand behind us. It is reported that there is 2000 wagons at the crossing of the South Fork of the Platte, awaiting as the river is so high that they cannot cross. There is some of the companies selling their wagons and packing from this place; wagons which cost $125 dollars in the States have sold for $10 and $20 dollars, bacon has been sold for one cent per pound, flour from one to two dollars per hundred, and other articles in proportion.
Captain Robert Patten of the Nodaway company who was left by his company 80 miles east from this place, died on the 29th, a few men with two wagons were left with him, part of them returned and part of them came on.

It seems morally impossible for all the wagons which are on the road to get over the mountains this season; those who start from the Bluffs in July will get along better than those who start earlier, as the feed will have a chance to start before they get in the mountains. I remain yours truly,

H. EGAN.

Egan, Howard, "From the Plains," Frontier Guardian, 11 July 1849, 2.

Howard Egan

Information derived from history submitted to DUP by Melanie Dawn Whaley Bastian (great-granddaughter), history submitted to DUP by Mary Ida Burgoyne, Ruth Clarkson Crockett's journal (daughter-in-law), the Crockett Family Book as contributed by Alease K. Larsen, history submitted to DUP by Susie Crockett Atwood, history written by Roxanna Crockett (daughter), The Crockett Family of Maine (USU Special Collections), Encyclopedic History of the LDS Church p. 418.
"United States Department of the Interior." National Register of Historic Places.<http://history.utah.gov/about_us/board/documents/NR0811B.pdf>.
Mormon Pioneer Overland Travel, 1847–1868. <http://www.lds.org/churchhistory/library/pioneercompanysearch/1,15773,3966-1,00.html>.